Open-AE: The Free Libre Open Source Software culture: work, employment, and adult education
Would you like to have it in your language?
Please note that this is machine translation and some mistakes are possible.
Type of the event: Discussion/Debate/meeting
Online or offline: Online
Main theme/focus: Basic Digital Skills / Media Literacy
Main theme/focus: Basic Digital Skills / Media Literacy
Advanced Digital Skills / Employability

Date time start: 30/03/2021 15:00
Date time end: 30/03/2021 16:30
Number of hours: 1,5
Country: Belgium
Region: Brussels Capital Region
City/Town: Brussels
Organisation: ALL DIGITAL
Address of the event: Rue du Commerce 123, Brussels, Belgium
Url of the event: https://all-digital.org/events/adw-open-ae/
Email of the organiser: info@all-digital.org
Phone of the organiser:
Target Group: General public
Number of participants: 23
Short description of the event:
The Open-AE project has created a space of discussion and cooperation between various training actors across Europe: Some with a significant experience on free, libre and open source software (FLOSS) culture, others with the desire to learn, all with the conviction that our perception and use of FLOSS needs to evolve. The result is a fruitful experience, that we are eager to share with you, in the following areas:
FLOSS and adult education: Methods and tools tested, combined with specific learning approaches.
FLOSS in the workplace: How do these methods and tools contribute to a digital work, well-being, including our current collaboration and communication practices.
FLOSS, employment and employability: In the era of growing artificial intelligence and use of algorithms in recruitment, what is our citizen driven response. What type of skills and competences does FLOSS culture empower?
Join us for this new area of work and collaboration, let's try and work together within new initiatives that will challenge and evolve our current knowledge in the area.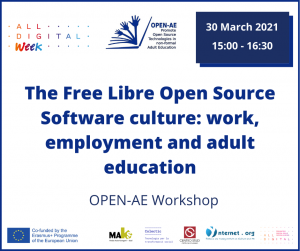 Photos from the event:

The event is: Completed