Smart-DevOps: Developing training methodologies and content for specific job profiles
Would you like to have it in your language?
Please note that this is machine translation and some mistakes are possible.
Type of the event: Workshop/training
Online or offline: Online
Main theme/focus: Basic Digital Skills / Media Literacy
Main theme/focus: Advanced Digital Skills / Employability
Other

Date time start: 24/03/2021 15:00
Date time end: 24/03/2021 16:15
Number of hours: 1,15
Country: Belgium
Region: Brussels Capital Region
City/Town: Brussels
Organisation: ALL DIGITAL
Address of the event: Rue du Commerce 123, Brussels, Belgium
Url of the event: https://all-digital.org/events/adw-smartdevops/
Email of the organiser: info@all-digital.org
Phone of the organiser:
Target Group: Other
Number of participants: 69
Short description of the event:
The DevOps Competences for Smart Cities (Smart-DevOps) is an Erasmus+ KA2/Sector Skills Alliances project that addresses the shortage of digital and transferable skills of public sector employees working in smart cities / municipalities and will support them in their professional development.
Combination of a specific approach (DevOps), field (public sector employees in smart cities and municipalities) and lack of educational programmes or courses in the field meant the project consortium started practically from scratch.
It started with in-depth research and analysis of the needs and available trainings to identify the most competitive and high valued skills and competences, continued with identification of the three new professions/job profiles and concluded by developing a MOOC and specialisation courses based on modular design, utilizes open content (digital OERs) and enables flexible learning pathways.
Join us at for the "Developing training methodologies and content for specific job profiles" event to learn:
How to identify an emerging job profile in a specific field and how to prepare it for developing of training methodologies and contents.
How to go from identifying job profiles/competence profiles to building an online educational programme that follows ECVET standards. Presentation with examples from Smart DevOps.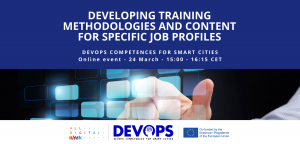 Learn more and watch the event recording https://all-digital.org/events/adw-smartdevops/
Photos from the event:

The event is: Completed